~Let's Sail on some Seafood treat~
Kolkata's biggest Oriental Seafood Festival'22 is back!
Who doesn't love the crackling sound of crab shells, followed by the gush of delicious crab meat? Or the luxury line up of Octopus in Tobanjan Sauce, or some lip-smacking bite of King Prawns in Bamboo Shoots & Chinese Mushrooms? Seems like a dream from a distant land ain't it?
Well worry not! Kolkata's No 1 , and now Bangalore & Delhi's favourite Chinese food destination, Chowman Chain of Restaurants is about to take you on a seafood treat-trip with it's popular and much awaited, Oriental Seafood Festival'22.
Made by our masterchefs using fresh stocks of seafood every day, Chowman team has indulged in a labourious curation of some amazing seafood items cooked and presented in the most unique style inspired from different parts of the world!
Chowman is about to run it's festival 11th August onwards starting from Rs 250/- + taxes, both in Kolkata & Bangalore. Festival special Items will be present both for dine-in and delivery (Chowman App, Swiggy & Zomato) between 12 Noon to 10:30 PM with additional exclusive discount on Chowman App!
Here is the first ever revelation of our '22 Seafood Menu featuring: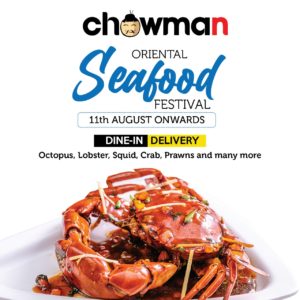 MENU_SEAFOOD FESTIVAL 2022
SOUP
Seafood Lemon Coriander
Prawn Dumpling Soup
STARTERS
Spicy Seafood Peking Dumpling
Crumbed fried Prawn
Whole Crab in Ginger & Spring Onion
King Prawns in Bamboo Shoots & Chinese Mushrooms
Stir Fried Squid with Seasonal veg
Stir Fried Whole Beckti in Hot Pepper Sauce
Stir Fried Octopus in Tobanjan Sauce
Pan Fried Chilli Pomfret
Lobster with Mint, Lemon & Chilli

MAIN COURSE
Mixed Seafood Noodles
Shrimp Chahan
Calamari in Chilli Tamarind
Thai Lemon Steamed whole Beckti
Whole Pomfret in Thai Chilli Sauce
Crab meat in butter chilli sauce
Whole crab in Spicy chilli & Black pepper sauce
Octopus in Chilli Mustard Sauce
Jumbo Prawn in Chilli Oyster Sauce